The Sam Houston Area Council, Boy Scouts of America, and The Woodlands community has honored Bruce Tough, Principal of the Tough Law Firm, with the 2022-23 "Good Scout Award." The Good Scout Award is awarded annually to a local business leader who demonstrates outstanding service to The Woodlands and Montgomery County and exemplifies the ideals of the Scout Oath and Law.
As of this year, the award is renamed the "Coulson Tough Good Scout Award" in honor of Bruce's father, who was the first recipient of the award in 2011. Bruce received this award at the Economic Development Partnership's Annual Elected Officials Reception on March 9, 2023 at The Club at Carlton Woods in The Woodlands, Texas.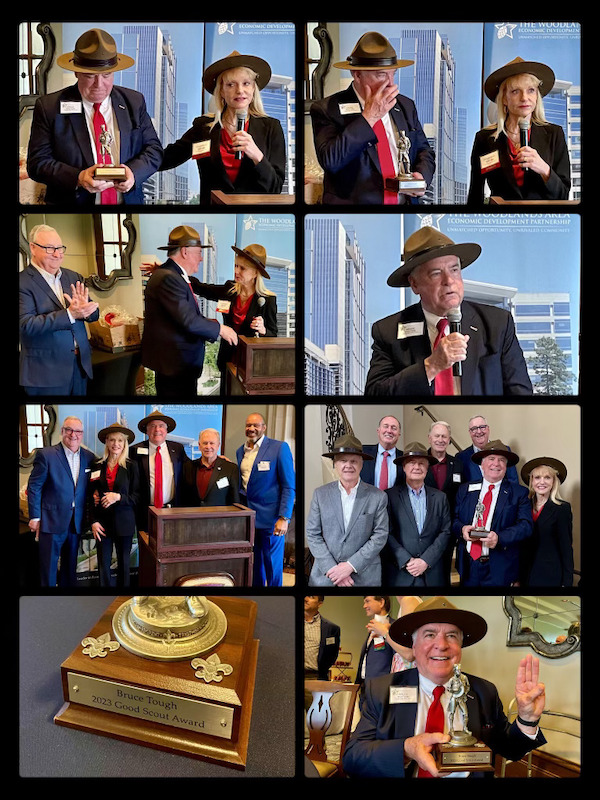 "The Scouts were an important organization to my father, who instilled in me their values from a young age. They represent the fundamentals of America and espouse lifelong values and principles of community service. The Scouts and this award are so special to Diana and me. We have four girls. We don't have any boys. When scouting started it was only for boys. Now we have family scouting, including boys and girls, and we encourage those values for our scouting families," said Bruce.
Please consider joining The Woodlands Community Good Scout Committee in celebrating this distinguished award with a donation of any amount to our community's scouting program in honor of "Good Scout" Bruce Tough. Add your support to the 2023 Sam Houston Area Council Friends of Scouting, The Woodlands Community Campaign.
The Foundation of Scouting
Scout Oath: On my honor I will do my best to do my duty to God and my country and to obey the Scout Law; to help other people at all times; to keep myself physically strong, mentally awake, and morally straight.
Scout Law: A Scout is trustworthy, loyal, helpful, friendly, courteous, kind, obedient, cheerful, thrifty, brave, clean, and reverent.
Scout Mission: The mission of the Boy Scouts of America is to prepare young people to make ethical and moral choices over their lifetimes by instilling in them the values of the Scout Oath and Scout Law.